The Preston Jazz & Improvisation Festival is back. Running from the 21 May -10 June 2023, Preston Jazz Fest has a multitude of FREE events running all over the City, culminating in the finale: "Jazzin the Park 2023".
Set in the beautiful Georgian Park, which is Winckley Square Gardens, Jazzin the Park 2023 has curated some of the finest local, national and international, Jazz and Jazz-fused artists.
Building on the previous year's success, 2023 brings SEVEN amazing artists to Preston City Centre for a FREE non-profit event designed to capture all tastes, generations and communities.
With support from Arts Council England, Preston Jazz & Improvisation Festival, Jazzin the Park Productions, University of Central Lancashire, Friends of Winckley Square, Preston City Council and the Festival of Music & Culture, we are delivering a final event designed by the community for the community, with help from our business sponsors, Blue Wren and Winckley Stays.
Please join us on Saturday the 10th of June 2023, from 12:00 to 19:00hrs, at Winckley Square Gardens, for an afternoon of sublime music. Bring your deck chairs, bring your picnic rugs and hampers. Eat from our wonderful vendors. Shop at our craft stalls. But most of all, come together, in unity, enjoying one another's company, to the beautiful soundtrack of Jazzin The Park 2023.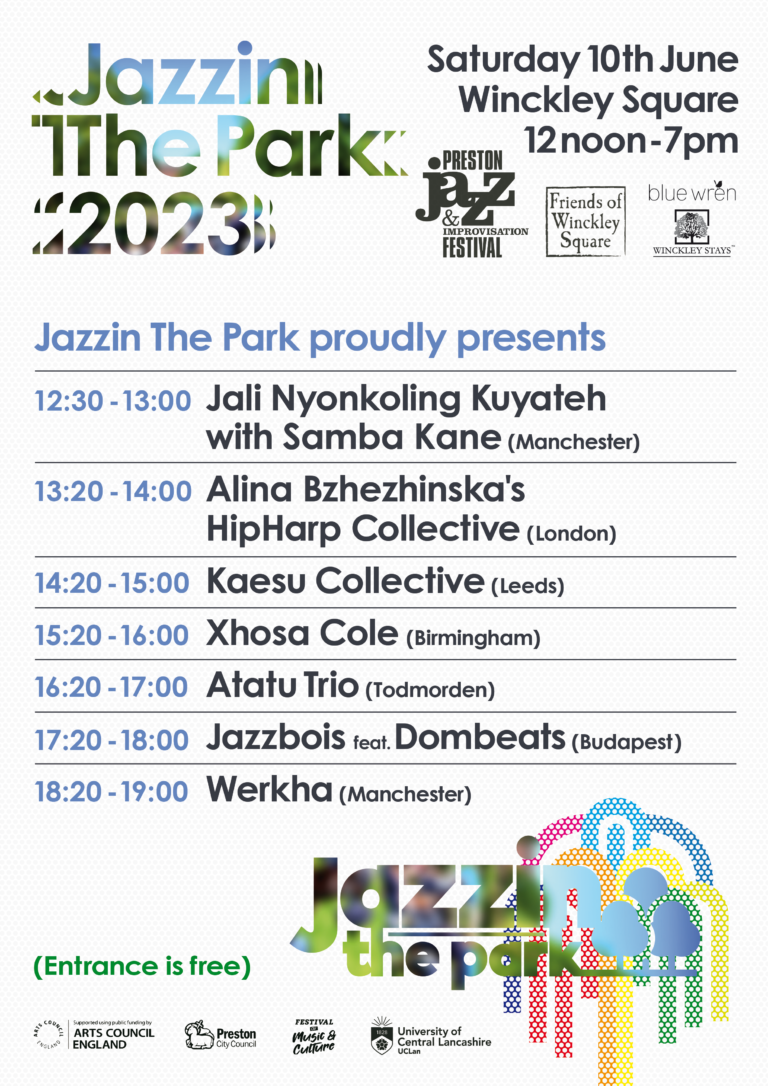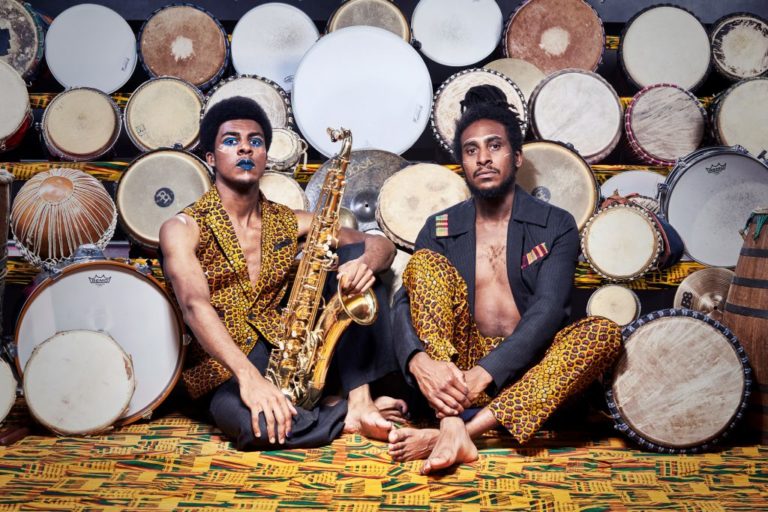 Xhosa Cole, the acclaimed 26-year-old award-winning saxophonist, working closely with his brother, Azizi. I couldn't think of a better way to sum up the work on his album "All Roads" – in this instance, all of our roads lead back to the heart of the great continent of Africa. There is no creative process like working alongside family and the joy of this track is reflects the delight of creating in a space with someone who shares a lifetime worth of references.
2021 was a defining year for Xhosa. The release of his debut album led to headline appearances from Ronnie Scott's to Pizza Express, numerous BBC appearances, and supporting international jazz legend Cécile McLorin Salvant at Cadogan Hall for the London Jazz Festival. He launched the first live shows with his new ensemble Rhythm-a-ting, exploring the music of Thelonious Monk, whilst also featuring as part of Hans Koller's Bird Migration Big Band, and Pat Thomas and Orphy Robinson's Black Top. Xhosa was commissioned by the Flatpack Film Festival to compose a 90-minute original work for the silent film Sidewalk Stories, and is now working towards the launch of Ibeji into 2023.
In 2018, he won the BBC Young Jazz Musician of the Year, has appeared twice at the BBC Proms, and was awarded the 2021 the Parliamentary Jazz Award for Best Newcomer. Xhosa began playing Tenor Saxophone at the community music school run by Andy Hamilton in Ladywood, Birmingham, moving through several community outreach arts programmes in his home city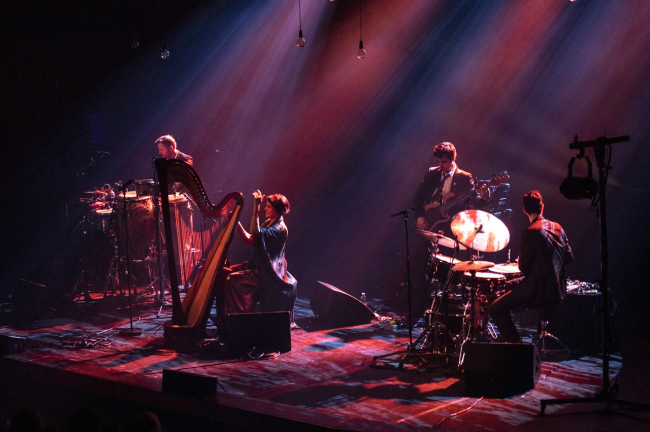 "Harpist Alina Bzhezhinska is becoming a significant presence across the entire European scene" Downbeat Magazine
"Alina Bzhezhinska… a modern-day supremo, is the among the best contemporary harpists" Evening Standard
"Alina Bzhezhinska Quartet… throws a spellbinding party to awaken the senses" London Jazz News
"…Bzhezhinska shares with Alice (Coltrane) a mastery of the jazz harp." ★★★★★ The Times
Internationally renowned Alina Bzhezhinska, one of the leading harpists in the world today, has built a strong reputation for innovation. Having first appeared at Ronnie Scott's in 2018, supporting a sold-out tribute to Alice and John Coltrane by Denys Baptiste Quartet, Bzhezhinska returns in 2022 with new compositions, airing for the first time at her headline show at Ronnie's this March.
Creating a unique sound on the harp, with layered effects and electronics, Bzhezhinska will be supported by music supremo's Mikele Montolli (bass), Joel Prime (percussion) & Matt Holmes (drums).
Drawing from a variety of influences, including Dorothy Ashby's 'Afro-Harping', Alice Coltrane's spiritual outputs, Joe Henderson's free form jazz experimentation & 90s Acid Jazz and Trip Hop, Bzhezhinska (composer, band leader and founder of the HipHarpCollective) is a one-woman powerhouse on a mission to bring the harp to the fore of contemporary sonics.
With her new album, recorded in London last year with her HipHarpCollective and released in 2022 (BBE Music), expect to hear the harp as you've never heard it before.
Bassist Mikele Montolli (Verona, Italy) has performed and recorded with such great artists as "Sun Ra Arkestra" Knoel Scott quartet and Marshall Allen, top U.K. Jazz singers Julie Dexter and Heidi Vogel, and L.A. saxophone legend Don Menza, thus building an extensive music vocabulary based on Afro-American tradition fused with years of classical training and experimental form-free music. In 2017 Montolli released his debut album "Satellite House".
Matt Holmes is a Birmingham based drummer, composer and band leader. In September 2020 Matt graduated from the Royal Birmingham Conservatoire where he was awarded the Tony Levin Drum Prize.
Since graduating Matt has performed alongside notable UK Jazz figures such as;
Percy Pursglove, Alan Barnes, Norma Winstone, Nikki lles, Alex Hitchcock, Soweto Kinch, Orphy Robinson, Hermeto Pascoal and NYJO. Matt also proudly endorses Canopus Drums.
Australian drummer/percussionist Joel Prime has become an important addition to British Jazz. Winner of 'Australia's Best Up & Coming Drummer' competition in 2011, his versatility across congas, the drum kit and all manner of Afro-Cuban and Brazilian percussion has created the opportunity for Joel to perform with Tony Kofi, Alina Bzhezhinska Quartet, Mr Little's Noisy Band, Felix Riebl and The Copasetic Foundation, among others.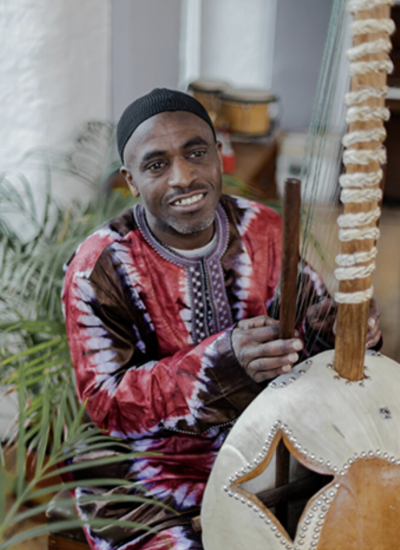 The inherited title, Jali, means traditional griot or storyteller and Jali Nyonkoling Kuyateh was born into a traditional griot family – the keepers of the oral traditions of West Africa. Although he was born in The Gambia, Jali's ancestors were originally from the ancient Kingdom of Mali. 
Jali, who is now based in Manchester, is a master of the Kora (African harp), an instrument built from a large calabash cut in half and covered with cow skin to make a resonator, with a notched bridge like a lute or guitar.  Each 21-stringed kora has own sound quality – echoing, as it does, the sounds of nature:  the sound of the rain or wind on the leaves of trees. The traditional music is relaxing, and its effect is to make audiences feel happy.  Jali compares his music to natural ozone: its purpose is to encourage emotional balance and self-understanding. 
Jali's name comes from the Mandinga word Kuyate and means no dispute or no problem.  In other words, jalis are peacemakers. 
Jali has performed in many events and festivals in the UK, including We Face Forward and Manchester International Festival in his hometown, where he also supported the international band, Afrocubism, at The Bridgewater Hall.  He has also been featured in the BBC children's programme Zingzillas. However, he still feels that his greatest achievement is expressing himself through his music to bring peace to others. 
Book Jali to perform for individual celebrations, such as weddings or parties, or for national and international events. Jali also frequently runs music storytelling or cultural events in schools.  He has also run workshops showing how koras are made from natural materials. 
At the Jazzin' in the Park Festival, Jali will be performing with Senegalese djembe player Samba Kane.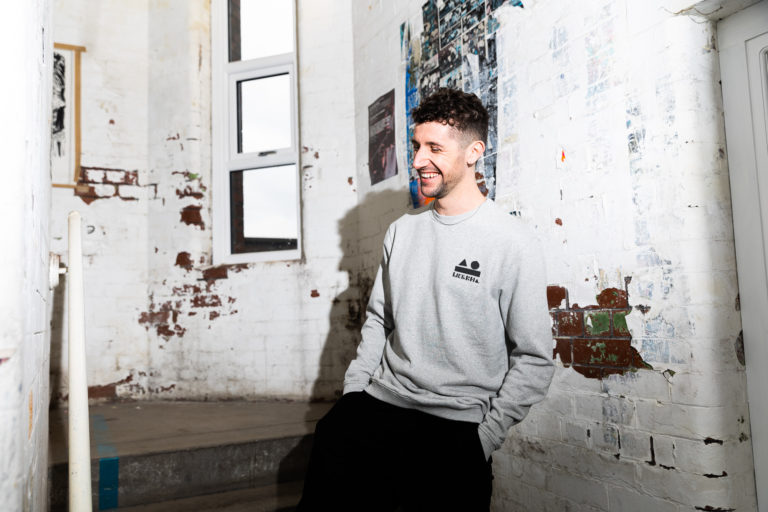 Werkha (aka Tom Leah) is a multi-instrumentalist, producer & DJ that hails from Manchester and has been releasing music for over a decade.
His debut album landed in 2015 on the acclaimed Brighton imprint Tru Thoughts, while he's currently signed to Worldwide Award-winning London label First Word Records, who released his self-produced sophomore album 'All Werk Is Play' in early 2022. This featured collabs with MC Chunky (Eglo Records / Swamp 81), Ellen Beth Abdi (A Certain Ratio), Kemani Anderson (Secret Night Gang), Nick Blacka (GoGo Penguin) and Tom Driessler (Adele / Tom Misch / Jordan Rakei) amongst others, whilst he's also collaborated and remixed artists such as Quantic, Bryony Jarman-Pinto, Marcos Valles and Andrew Ashong.
His music has had recent support across BBC 6 Music & 1Xtra courtesy of Jamz Supernova, Tom Ravenscroft, Huey Morgan & Afrodeutsche, as well as love from the likes of DJ Paulette, Scratch DVA, Zakia Sewell (NTS) & Jyoty (Rinse FM).
Werkha's music fuses analogue jazz-funk vibes with modern dance music electronics, creating a number of uptempo compositions that nestle somewhere between broken beat and breakbeat. Squelchy synths & delectable drums ride alongside live horns, flute, bass, harp, guitar & vocals.
His vibrant energetic live shows often include a selection of hand-picked highly-talented Manchester artists accompanying him, and have set dances alight across Europe; in recent times at venues such as Low Four Studio in Manchester and The Jazz Cafe in London, with festival appearances last Summer at We Out Here and Moovin. In past years, he also toured extensively with artists like Bonobo, Chet Faker and Mr Scruff. 
An incredible innovator in the studio, and one of the most refreshingly eclectic live acts in the UK.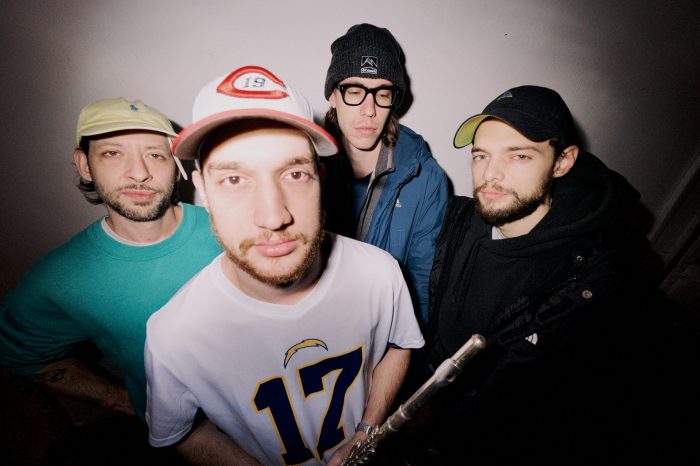 Jazzbois is a jazz-hip-hop fusion trio from Budapest, Hungary. Their debut album "Jazzbois Goes Blunt" had a strong impact on both the jazz and hip-hop scene, creating a unique psychedelic flavoured fusion that shacked the bones of jazz masters and beat lovers alike. As complete newcomers into the scene they were recognized by many key figures in the industry, receiving support from Joe Kay (Soulection), landed on multiple editorial playlists on Spotify & Apple Music, they got spun on worldwide.fm and even in the office of the legendary jazz label – Brownswood Records.  Beneath the streams however the full Jazzbois experience happens when they play live.  Since all of the tracks are results of pure improvisation, cosmic energies collide every single time they play together.  A truly unforgettable musical experience.
In 2021 September Jazzbois has released their second full length album "Jazzbois Goes Blunt II."
In 2022 September 'Danubian Phases' was released in cooperation with the young Saxophone & Flute player DomBeats.
In 2023 Jazzbois already has an EP and an LP in preparation. The LP will feature the LA based rapper Kid Abstrakt, who already has a track with Jazzbois called 'Live & Direct', which currently has over 2 million streams on Spotify.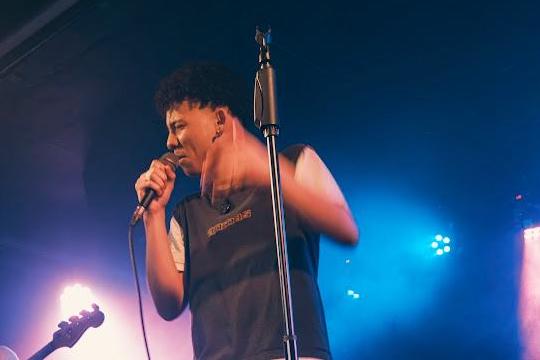 Fusing sounds of old school hip-hop and neo-soul, is poet & MC, Kaesu. Based in Leeds, Kaesu is a storyteller that explores themes of love, fear and introspection in his writing. His raw and emotive lyrics etched from real life experiences have amassed him a loyal social media following, ensuing the success of several videos which he began posting during the pandemic.
After a triumphant debut show in the August of 2022 at Deadwax, Digbeth, shortly followed by his first single 'Sunny' in collaboration with DJ Alex FB and Ladji, Kaesu looks to continue exploring and sharing his ever-shifting story with the world. We are extremely proud to have such a young and exciting new artist perform at Jazzin The Park 2023 with his new collective.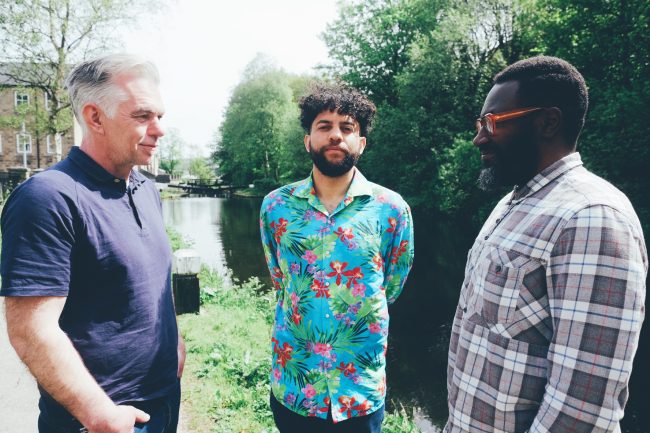 Atatu Trio is comprised of Adrian Lawrence (drums/words), Fraser Hinchliffe (bass) & William R. Davidson (piano). They were formed in 2022 after a chance encounter at We Out Here Festival & decided to get in a room together and start jamming. What came out surprised all members, their sound is a fusion of Latin, Jazz, Brazilian, Spoken work & Funk. Each member has brought a wealth of experience to the trio, Adrian has toured extensively with the likes of trumpeter Kevin Davey of 'Lamb' & Ninja Tunes 'Fink', he has also released a solo LP under the moniker 'Official Burnt Toast' on the label Sonkrif.
Fraser has been djing jazz on the circuit since the late 80s, he was a resident DJ at The Wardrobe in Leeds and has an incredible roster of musicians and bands that he has played alongside, artists such as Roy Ayers, Azymuth, Marlina Shaw & Antibalas. During this time, he also toured Italy with the band Nidid'arac on Bass guitar.
Wills background originally started in classical music; he was taught under the stewardship of Peter Young before embarking on a Jazz degree at the University of Hull. He held a residency at Princess Ave in Hull with his jazz Quintet 'The Dalis Collective' for 3 years. After graduating he self-released music under the moniker 'Lafrobur'.
The word 'Atatu' is derived from Wills native language 'Chichewa' and translates to the number 'Three', it felt a fitting name for the three members whose diverse backgrounds have shaped their unique sound.